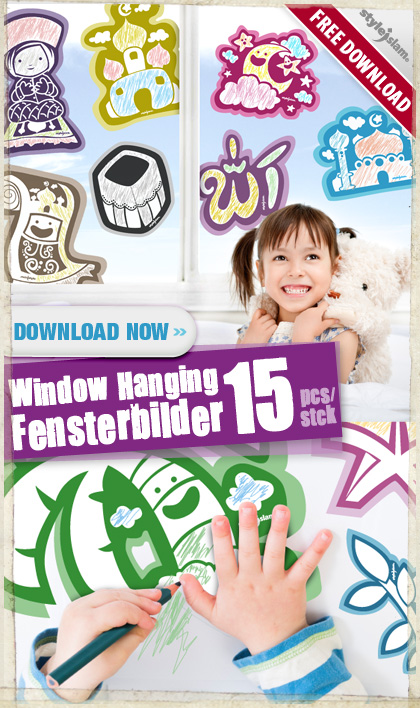 Gratis-Bayram-/Eidgeschenke bei Styleislam®
Die schönste Zeit des Jahres ist vorbei und alle sind in Feierlaune. Nicht nur für junge Erwachsene und Jugendliche ist Bayram/Eid ein Grund zur Freude, sondern auch für Kinder. Styleislam® beschenkt die Kleinen mit einem ganz besonderen Highlight: 15 Putzige Fensterbilder mit dem religiösen Etwas. Dabei gibt's Action und Fun ohne Ende, denn die schönen Kunstwerke werden ausgeschnitten und nach Belieben ausgemalt. Spaß für Kinder gibt's nur hier bei uns als Download für sage und schreibe 0 Cent.

Free-of-charge Bayram/Eid Presents with Styleislam®
The most wonderful time of the year is over and everyone is up for celebrating. Bayram/Eid is not only a reason why young adults and youngsters, but also children are happy. Styleislam® offers a very special highlight to these kids: 15 Cute windowcolor sheets with the religious X factor. They bring about excessive action and fun, since the beautiful works of art are to be cut out and coloured. Massive fun for children is only available with us for 0 quid.