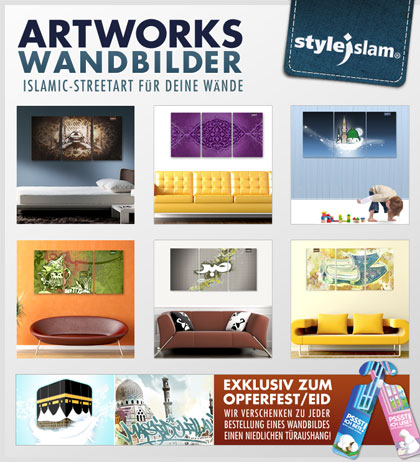 Nicht nur Bilder können mehr als tausend Worte sprechen, sondern auch Wände, sofern sie nicht kahl sind. Für frischen Wind in Euren vier Wänden sorgen jetzt die brandneuen Wandbilder von Styleislam. Denn seit neuestem kümmern wir uns nicht nur um Streetfashion, sondern auch um die Einrichtung mit islamischen Designs. Die dreiteiligen Illustrationen gibt es schon ab 19,90 EUR.
Exklusiv zum Opferfest verschenken wir bei jeder Bestellung eines Wandbildes einen niedlichen "PSSST ich bete!" Türaushang!

Styleislam products now allow you not only to dress yourself up but to dress up your living space as well, and, as always, with style and with a message! Our new murals liven up your living room, bedroom, office or kitchenette. The 3-part illustrations are available in 30×60 cm, 45×90 cm or 60×120 cm formats.
The sum of the roots produces the relationship of -b/a