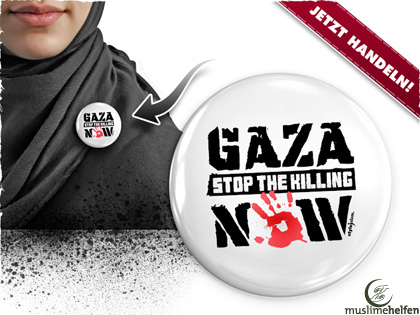 Zeig deine Solidarität mit Gaza und trag die Botschaft auf die Straßen!
Wenn auch Du was gegen den Gaza-Krieg tun willst, mach' mit und hol dir jetzt die "GAZA – STOP THE KILLING NOW" Buttons. Der optimale Kommunikationsträger zum weiterverschenken. Der Preis bei 50 Buttons à 50 Cent beträgt 25 EUR. Hinzukommen 3,90 EUR Versandpauschale.
In Partnerschaft mit:
muslimehelfen – Hilfswerk von Muslimen in Deutschland
myumma.de – Let's work together
muslimlife - Muslima sucht Muslim

Show your solidarity with Gaza and carry the message onto the streets!
If you want to do something against the war in Gaza, join in and get the "GAZA – STOP THE KILLING NOW" buttons. The optimal communications medium for regifting. The price for 50 buttons at 50 cents apiece is 25 euros. On top of that comes a shipping and handling flat rate of 3.90 euros.