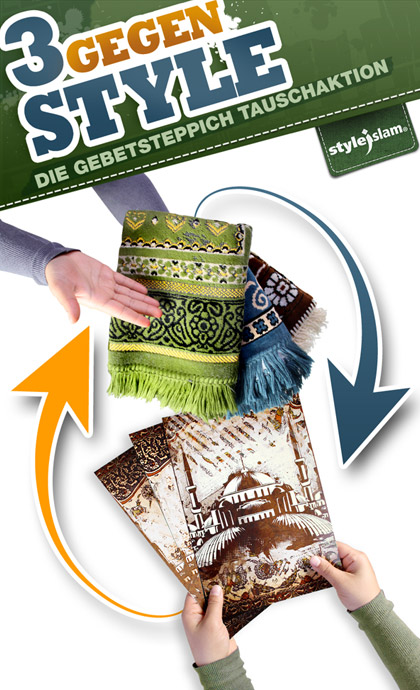 Hier folgt eine Ansage. Spitzt die Ohren, reibt die Augen und sammelt eure verstreuten Gedanken. Sie liegen in den untersten Schubladen eurer Schränke, in der verstaubten Ecken im Keller und versteckt aufbewahrt unter dem Sofa. Wir hören ihr Gejammer, ihre Hilferufe und fühlen ihre Trauer mit. Alleine gelassen und vergessen zu werden, das hat nichts und niemand gern.
Die Rede ist von Gebetsteppichen aka Seccades, auf denen einst die wertvollsten Minuten des Tage verbracht wurde und die nun seit Jahren unbenutzt herumliegen.
Weil wir dieses Drama nicht länger dulden können starten wir die Recycling- Aktion des Jahres und holen sie aus ihren dunklen Ecken heraus. Nach all den langen Jahren geben wir ihnen die nötige und wohlverdiente Wertschätzung.
Ihr könnt uns bei dieser Rettungsaktion ("3 gegen Style") helfen, in dem ihr uns 3 eurer Gebetsteppiche zuschickt und wir euch als Gegenleistung dafür ein Wandbild im Wert von 19 € schenken. Was wir anschließend mit euren Gebetsteppichen machen werden, verraten wir euch noch nicht. Ihr dürft aber gespannt sein, sie werden eine faszinierende Evolution erleben: Vom Staubfänger zum wertvollen Unikat.
Du willst mitmachen? Dann bestell dir jetzt dein Gratis-Wandbild hier!
PS: Bei 6 Gebetsteppichen schenken wir euch 2 Wandbilder. Bei 9 schenken wir euch 3. Und wieviele Wandbilder wir euch schenken, wenn ihr uns 12 Seccades schickt, könnt ihr sicherlich ausrechnen


This is an announcement. Perk up you ears, rub your eyes and gather your scattered thoughts. They're in the bottom drawers of your cabinets, in dusty corners in the cellar and stowed, hidden under the couch. We hear your complaining, your cries for help and we sympathize with your sorrow. Abandoned and forgotten – nobody wants to be in that situation.
We're talking about prayer rugs a.k.a Seccades. The most valuable minutes of the day were once spent on them, but now they just lay around, unused for years. We can't take the suspense any longer. That's why we're launching the recycling campaign of the year and pulling them out of their dark corners. After all these years we'll see to it that they get the necessary esteem they deserve.
You can help us with this rescue campaign ("3 gegen Style") by sending us 3 of your used prayer rugs, in return for a gift from us, a mural worth €19. What we'll then do with your prayer rugs is a secret, but the fascinating metamorphosis they'll undergo will definitely surprise you: From dust collector to a valuable one of a kind.
You want to participate? Then order your mural here and now!
PS: For 6 prayer rugs we'll give you 2 murals. For 9 you get 3. And how many murals we'll give you for sending us 12 Seccades, you can surely figure out yourself

We are glad to offer this new service to writers