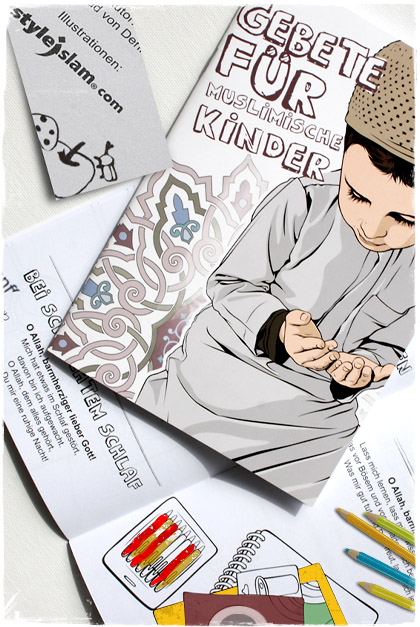 Das Kinderbuch Gebete für muslimische Kinder erscheint im Andalusia Verlag und enthält 33 Bittgebete für die Kleinen. Die Gebete wurden kurz, verständlich und in Reimform geschrieben, so dass sie leichter im Gedächtnis bleiben können. Styleislam® unterstützt dieses Projekt auf künstlerischer Art und designte das Layout des Buches… Nicht nur das! Damit die Kinder auch beim Lernen Spass haben und sich kreativ austoben können, haben wir für das Buch Illustrationen, die kindgerecht gestaltet sind und immer in Bezug auf das Thema des Gebetes stehen, entworfen. So ist learning by doing für die Kleinen, aber auch für die Grossen ein Vergnügen.
Das Gebets-Malbuch online bestellen!



The children's book Prayers for Muslim Children is published by Andalusia Verlag and contains 33 supplicatory prayers for the little ones. The prayers written are short, understandable and in rhyme so that they're easier to remember. Styleislam® has supported this project artistically by designing the book's layout. But not only that! To make learning fun for the kids and also enable them to have a good creative romp, we designed illustrations for the book which are suitable for children and always related to the subject of prayer. In this way learning by doing becomes an enjoyable experience for both young and old.